I was at a party last night where we were talking about all the lovely neighborhood buildings that are being ripped down in Chicago's rush to forget about its past and build a glorious shiny modern future. We all agreed (even the architect) that many of the old cottages and apartment buildings were much better in design terms than the modern condo stacks replacing them. We especially missed these old gems from the East Ukranian Village: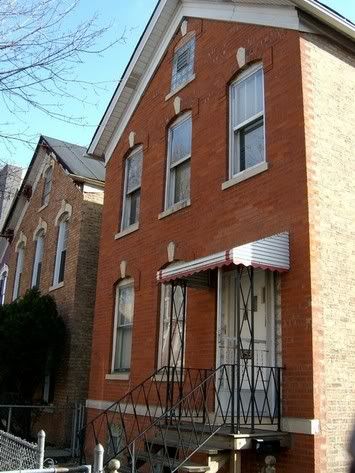 And it's not as if the city lacks empty lots; it's full of them. But building there would mean living next door to African Americans. As a result, it's often the healthy, functioning neighborhoods that get demolished, because new white residents feel "safe" there - they just don't like the housing, since existing units are too small for them to stash all their suburban consumer crap.
Maybe we should start slashing their tires.
Anyway, I'm going to start keeping track of good buildings that die, sort of a "Lost Chicago" for the neighborhood set: not so much big cultural landmarks, but quality neighborhood stuff with character and charm, levelled in the name of profit by real estate bandits. Since the two houses across the street have been demolished in the last couple days, you'd think I'd start there. But actually, they were ugly - I don't care if they were old, they were non-contributing. My first demolition of the week will be the old three-story commercial building at Cermak and Indiana. I noticed it being torn down just a couple hours ago. It is notable for two reasons: one, it was classy, ornamented, had great bay windows on the second and third floors. Two: the building had an obvious use. It was a couple doors down from the Velvet Lounge, a hole in the wall bar that is the most important venue for experimental/free jazz music in America. The Velvet is in a crumbling one story commercial building that should be demolished (2122 1/2 S Indiana). This old dame would have been the logical replacement venue: on the same block so people could find it, three times as large, and classy looking. Instead of a developer coming in, buying the block, relocating the Velvet and doing some first-rate gentrification in the South Loop, it was auctioned and now is being torn down. No doubt a charming cement high-rise decorated only with iron balconies will soon rise in its place. The neighborhood in question used to house all of Chicago's captains of industry. It deserved a better fate than kitchy developer blandness. South Loop, we never knew ya.