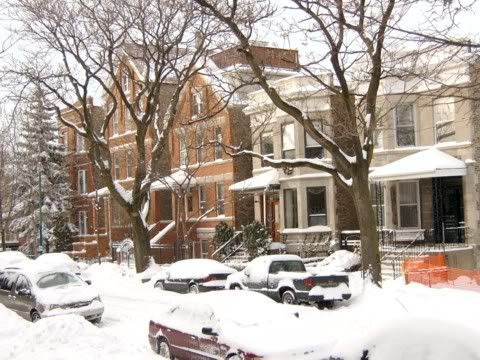 We have been quite busy this weekend, mostly because, as you may have heard, we have been absolutely buried in snow the last few days. Tom Skilling, weather guy for the Tribune and brother of notorious Enron felon Jeff Skilling, tells us that Chicago has only received 12" or more of snow in a single storm 20 times since they started keeping track in 1885. This weekend makes 21.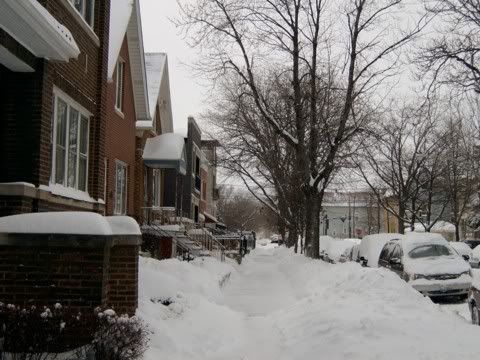 I won't repeat my rant about shoveling, the terrible weather seems to have brought out the best in people as it often does. Strangers help push cars out the sludge, overall people have been very polite and cautious drivers on the snow, and most people around here were responsible enough to do some shoveling - even the spoiled, tatooed North Shore brats renting from Pete managed to clear their steps this time, although I haven't dared to walk that side of the block. In part, the better snow clearance may simply reflect the work of some young Latina entrepreneurs who wandered the neighborhood offering their shoveling services and cleaning up in more ways than one.
Speaking of snow driving, Trope has been wonderful this weekend. The storm hit while we were visiting friends in the burbs, and she managed to get us home during the worst of it, slogging through drifts on the surface streets in the middle of the night because we didn't trust the highway. We are both intact in spite of our stubborn refusal to alter our plans in the face of inclement weather, for which Trope deserves most of the credit. She's done it all in my car, too - friends will recognize glimpses of her car peaking through the snow bank: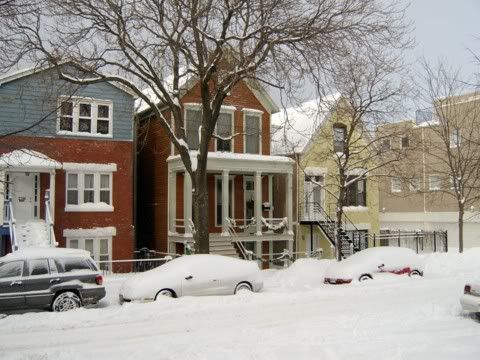 Thanks for everything, honey. You've been terrific, as always. And condolences to our friends in Boston, who I hear received the brunt of this thing after it moved east. Be safe, everyone.