2127 W Walton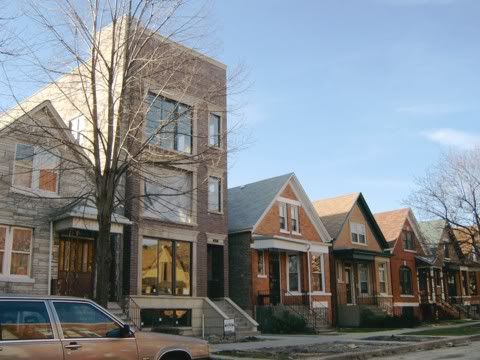 Actually these condos are very nice places to live - but why are they here? This building is obviously too tall for this block, and interrupts a nice row of single-family cottages, one of which was demolished to put this monster up. There are rows of greystones just a few blocks away from here with "missing teeth," where a building like this would have been a nice addition. But you can sell it for more money in the Ukranian Village because it's "nicer."
And it is a great neighborhood. Driving down the street to get the "Demolition of the Week" picture, I found rows of houses and trees marked with flags and plastic bag ribbons:
The orange ribbons are to show solidarity with the demonstrators in the Old Country. Chicago's Ukranian-American population is firmly behind Yuschenko. Chicago Avenue between Damen and Western is lined with these orange ribbons, and old men in fur hats are wearing them pinned to their lapels. Selfreliance Ukranian American Federal Credit Union, at Chicago and Oakley, had set up accounts through which 16,000 Chicagoans have
donated $273,000
to the protesters.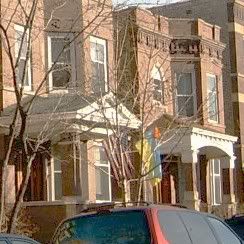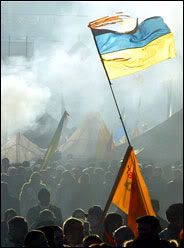 I tend to agree with them for reasons I went into
here
. For a different view on the history of Ukraine, check out this
history
, from a Polish point of view, of a small town in what used to be called Polonia, a region of Western Ukraine that used to be part of Poland. He is very critical of the Ukranians he sees as driving his people off their land, a feeling my ancestors in Danzig would probably have about the Poles who drove everybody else out of that area. I looks like everybody moved out west along Milwaukee Avenue after the Russians started moving in downtown . . . okay, only Max is going to get that joke, but I still like it.