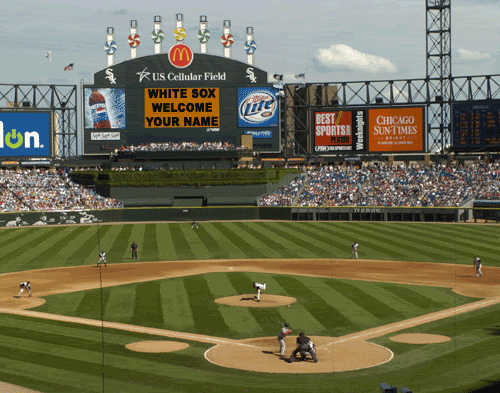 I almost took the El down to 35th Street this afternoon to catch the White Sox play the Orioles, the two best teams in baseball right now. In the end, it was a little to chilly and gloomy for May baseball, and I'm glad I didn't go - the Sox finally ended their 37-game streak in which they held a lead at some point (43 going back to last season),
trailing throughout and losing 6-2
. A damn shame, it was a beautiful streak. At 27-11, they still have the best record in baseball. I've watched them play the past few days - they're a great team.
Now I'm a Cubs fan, and in Chicago you can't really be both. Which doesn't mean I root against the Sox, except of course when they play the Cubs, like they will this coming weekend (the series will likely end the (16-20) Cubs' hopes of making the postseason, short of a miracle).
I like to see them win. I like to go down to U.S. Cellular Field and catch a game. Sure, it's ugly and lacks character, but the food is great (especially the Bratwurst, something they just haven't gotten the hang of on the North Side), and the game is well played. I'd love to see any team bring a title home to Chicago. I have no problem with the team at all.
It's the fans who bug me. Rather than blather about it myself and risk offending people, I'll just quote the ueber-Sox-Fan himself, John Kass from today's
Tribune
:
If they keep winning, we Sox fans will be at risk of losing something important, losing that which has sustained South Side fans for years:

Our bitterness.

How can we live without our refuge if they win it all?

We've been bitter at so much for so long. Bitter about the team, about the strike year when the Sox dominated the league, bitter about the excuses for not stuffing the payroll with stars.

It's our nature to have some bitterness in us. Not the romantic bitterness of Boston Red Sox fans that was lost to them with the World Series win last year. That's a literary bitterness.

And not the cheesy bitterness of Cubs fans, whose team has betrayed them, yet they're nauseatingly optimistic always, protected by poetry, soothed by folk songs, isolated from reality by their goat curses.

They're so happy and childlike, stuffing Wrigley Field, shrieking at foul balls, even when the team is terrible, knowing when they step on the sidewalk there's more fun, music, spirits and dancing to be had.

Sox fans aren't dancers. There is no romantic baseball ethos on the South Side. There's nothing noble about our ache; it is pathology and it is complicated, bound up in history, in guilt, in the tribalism of childhood.

We're bitter about being born on the wrong side of town, because whether it's the city or the suburbs, the South Side is a state of mind. We're bitter about fleeing our neighborhoods or not being welcomed into ones we moved into. We're guilty about fleeing, or resentful about being welcomed with a finger and a sneer.

He said it, not me. We're "happy and childlike." They're bitter. In fact the idea that we have a "cheesy bitterness" ourselves is ludicrous. How can you be happy and bitter at the same time? Kass is projecting. Just being a loser doesn't make you bitter. Blaming someone else for your problems can.
How do I love the Cubs? Let me count the ways:
1. Wrigley Field. It's old school, which is how we like to see ourselves, even though we're not. I like the ivy, the pillars, the way you can look over the outfield bleachers and see into peoples' living rooms. I like that there's no Jumbotron, no cheesy rock musing blaring, very little in the way of advertising. It's a pure monument to sport. It reminds me of the crumbling open-air Roman theaters you find when you backpack around Europe.
2. Wrigleyville. The best thing about Wrigley is it's right in a city neighborhood. There's no parking lot, no dedicated highway exit, no vast expanse of concrete, no attached football stadium or concert venue. It's just a ballpark. Step outside and there are people's homes across the street. Also bars and restaurants. Walk a few blocks east and you're in Boys' Town, Chicago's biggest gay enclave. Walk north past the cemetary and you're in the multicultural funkiness of Uptown. Yeah, Wrigleyville's loud, drunken, fratboy-infested and you can't park there. So what? Since driving drunk is illegal, bars shouldn't come with parking. Take a cab, idiot.
By being in the midst of us, Wrigley is a part of us. When we pull for the team, we're pulling for our communities and asking them to validate our way of life. Which they do whether they win or not, just by pulling us all together.
We like our neighborhoods. Unlike some people. How can you have "South Side Pride" when you left the neighborhood because a black family moved next door and you ran away in fear? I realize this is sort of unfair, since there are lots of non-white Sox fans and lots of white fans in Bridgeport, Beverly, Mt. Greenwood, Clearing, Brighton Park, Archer Heights, etc. But most people attending the games, or not attending the games, are former South Siders. A few years back they even tried to move the team to the burbs - if that ever happens, I will hate them, just as I hate the Anaheim Angels. But hey, I'm not the one who's bitter about it, so why should I care at all?
3. The other fans. Hope springs eternal at Wrigley. Every time a batter steps to the plate, we could win. Every time we win, we could go all the way. And we know it's a game. Wrigley's packed not because the team is great, but because it's fun there. It's a giant singles bar. It's friendly. People are having a good time. If Sox fans think it's silly that we're not miserable, well, what's the point in being miserable about a game?
And that's the difference, I guess. To Sox fans, this is a serious rivalry. They want us to give them respect or something like that. But Cubs fans don't really care what Sox fans think one way or the other. So it's a one-sided rivalry, which is a game the bitter party can never win. It's like a romantic breakup - whoever cares less, wins.
Look, neither team has won a championship in ages. The Cubs did it in 1908. The Sox did it as recently as 1917. They could have gone all the way in 1919, but they
threw the series
. On purpose. For money. They've never won it since. Talk about a curse.
4. Pitching. At last, something about the actual game. These past few years the Cubs have assembled quite a cast of characters. Pitchers are the gunslingers of sport, and it's fun to watch these guys size up one opponent after another. Even Farnsworth could be fun to watch, although he drove up my blood pressure single-handedly a couple years back. Now if they could only get a closer.
5.
WGN Radio
. Nobody calls a game like Ron Santo. It's not always coherent, but it's always fun.
So Cubs culture is one I feel comfortable with. Sox culture is alien to me and it's just not something I'd want to buy into. The Sox are great right now. With no argument I'll admit they're a much better team than the Cubs. And if they go all the way, I'll be right there, eating a sausage and cheering. But don't snarl at me, call me names ("wine drinker!") and then beg me to love and accept you. Last time I checked that was called Borderline Personality Disorder. It's the reason I don't work with clients anymore and the reason you won't see me donning a White Sox cap anytime soon.