[It's not like I mean to take 10 days off from blogging, things just happen. This is the post I meant to put up a week ago.]
With corruption scandals swirling closer to the Fifth Floor of City Hall, Chicagoans are starting to realize that Daley may not be mayor forever. Personally, I think he'll stick around until at least 2011, but that's not such a long time in the grand scheme of things. Just as an intellectual exercise, I thought I'd take a look at what it might be like if we had a contested election in 2007.
The Voters

After 16 years of near-unanimous support for Daley, are the old voting blocks still present in Chicago? The city voters used to be so fragmented and hostile it was called "Beirut on the Lake." The parties were:
African Americans
. Once a reliable part of the machine vote (delivering Richard J. Daley's margin of victory in 1971, even after the '68 riots), Chicago's black voters developed a political identity of their own in the 1970s and 1980s, culminating in the movement that elected Harold Washington to the Mayor's office in 1983 in spite of overwhelming hostility from the "Bungalow Belt." The issues that propelled the revolt - systematic exclusion from public jobs controlled by the machine, sub-standard city services in black neighborhoods - were largely resolved during Washington's tenure. Black voters have supported Daley just like everybody else, even in old middle class reformist strongholds like Chatham and Hyde Park.
The Bungalow Belt
. The Urban White Ethnics of yesteryear. Nixon-voting Daley supporters who feared black expansion into their neighborhoods. Most of these people left the city after Washington was elected. Their neighborhoods on the Northwest and Southwest Sides are being incorporated into the developing Latino majority. Those who remain are fairly liberal by national standards and have made some sort of peace with ethnic diversity. Mostly they want less crime and better schools. They feel that Daley is delivering, although they wish things would change faster.
Lakefront Liberals
. You know, the tax hiking, government-expanding, latte-drinking, sushi-eating, Volvo-driving, New York Times-reading, body-piercing, Hollywood-loving, left-wing freak show. Their issues are different. Gay rights, opposition to the war, free speech, abortion rights, you know, fluffy stuff that doesn't really cost anything. Daley can support these issues without spending money or delivering jobs, so he's won these people over. They used to be a thorn in his father's side and line up with Goo-Goos, but no longer. Lakefront Liberals are also interested in good schools, but less likely to have children and more likely to have them in elite, selected schools like Northside College Prep, Lane Tech, etc if they do.
The Machine.
Old-school pols and public employees, residents of Bridgeport and Beverly who seem to get all the city's contracts for privatized services, ward bosses etc. Right now they all back Daley. Frankly they are too divided among themselves to do anything else. In the races for Governor and Senate over the past few years, machine support was all over the map, with different factions backing different candidates. Don't expect them to be real effective this time out.
Latinos
. Solid Daley. If there's a "new machine" out there, it's roored in the Hispanic Democratic Organization. The HDO and its leader, Victor Reyes, turn out the vote for Daley like nobody else. But many non-citizens can't vote, making this group much weaker than their share of the population if there is a high-turnout election.
Goo-Goos
. "Good Government" Types who are appalled by the corruption swirling around the Hired Truck program, Millennium Park, etc. They tend to be congregate around Hyde Park, which is why the neighborhood is now split between the 4th and 5th Wards, to deny them a power base. 4th Ward Alderman Toni Preckwinkle actually voted against a Daley budget, though. A small but vocal group, they are only important when they can motivate Lakefront Liberals and middle class African Americans to join a Reform bloc. Most Chicagoans don't give a crap about corruption as long as things get done, but that could change in an era of belt-tightening and obnoxious property taxes.
The Candidates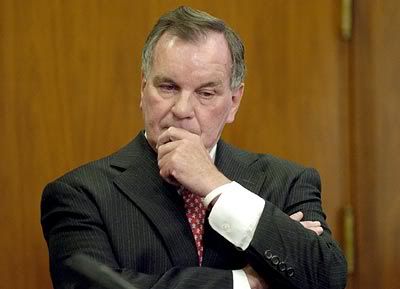 The Incumbent
. Richard M Daley won over 83% of the vote in 2003. It seemed like a monumental victory at the time, but John Kerry won 82% of the vote in Chicago, and he had an actual opponent. Daley, on the other hand, faced only token opposition from the remnants of the Harold Washington Movement. With no money and an unknown preacher for a candidate, they didn't even win the black middle class areas which were Washington's base. A race-based opposition doesn't stand much chance right now, unless it can better articulate a reason why Daley must go. They must also have a candidate who can convince voters he can do a better job than Daley, which could be tough going.
Opposition weakness isn't the only thing Daley has going for him. He has neutralized the threat of Lakefront Liberals by supporting the concept of gay marriage, legal abortion, other cost-free non-economic issues. City council's vote opposing intervention in Iraq and Daley's leading the opposition to cuts in Federal grants like the CDBGs gives Liberals the impression that he's on their side. They tend to blame Washington, suburbanites, and Governor Blagojevich if things aren't going well. Daley also enjoys overwhelming support in the Latino community - he works them like his father worked other groups of Roman Catholic immigrants.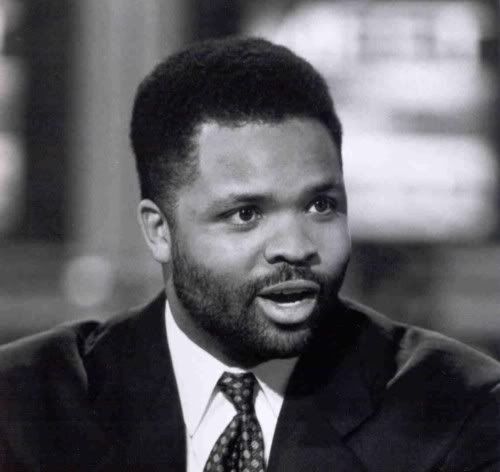 The Challenger
. Representative Jesse Jackson Jr. is very likely to run, according to local political gossip. Another son of a famous politician, it seems like Jesse Jr has been buiding a political resume since Kindergarten. He has black activists longtime support for his father in his corner, as well as the reputation of a successful Congressman who seem a little more, um, well read than Daley does. In fact, he shares his father's gift for rhetoric - although I'm not sure eloquence is always such a plus in Chicago politics. Neighborhood people like a plainspoken guy who stands up for them. It's widely believed here that Bush learned his schtick from studying Daley.
Jackson has a big liability, however. His district encompasses parts of the South Side and South Suburbs, and he has been a vocal supporter of building a third, South Suburban airport at Peotone. While this has been popular in his district, it could just be the kiss of death in a race for citywide office. As it stands now, airline traffic to and from Chicago comes through the city and is controlled by the city Department of Aviation. An airport beyond city limits means the tranfer of some flights, some tax money, and some jobs that would otherwise stay in the city out to the suburbs. This is a wildly unpopular idea among working class residents who make their living at O'Hare or Midway, including many black South and West Siders who would otherwise be supporters. Daley has led the effort to keep these jobs in the city. This is a losing issue for Jackson, and if he wants to run he'd better change his mind about Peotone first.
There's no way I'd vote for this guy unless he could convince me that he understands why shifting investment from the city to the burbs is a Very Bad Thing.
The Dream Candidate
.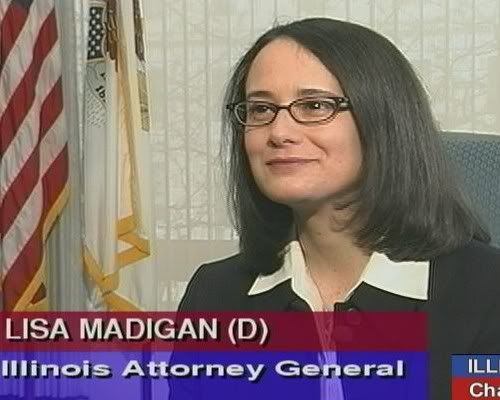 I know she's not running, but I just might write her in. This from a recent e-mail exchange with Mr. Wells of the once and future
Tally Ho
:
Wells:
Shes got bigger fish to fry. I was hoping she was going to challenge Blago in the primary, but I doubt the establishment would allow that especially when Rove or no Rove she will get reelected. He will probably attack her on overreaching or being activist - as his mo is to attack the strengths, not weaknesses of his opponents. Spitz is going to easily get in the 60s for Guv, and will surely swing through IL for Madigan b/c he won't have much to do in NYC. They can't even recruit a wingnut to challenge HRC - and had nothing against Schumer. Perhaps my point is that Bush/Rove is the problem in NYC, and may be just as much as a liability in IL since they have been creamed in the last 3 elections in IL. Gov. Richardson used his DNC radio address this week on Dem governors and what they are doing and highlighted Blago's prescription drug plans. I really think Dems need to really focus on the AGs as a way to counter the conservative take over of everything. Dems can investigate them and their cronies endlessly...

Elwood:
Bush is a liability here. The problem is, so is G-Rod. Only 35% of Illinoisans want him re-elected, and I am not one of them. He's not doing shit about the CTA and is threatening to veto a bill that changes education funding by raising income taxes and cutting property taxes - a pet issue of mine. So he's pro-choice - he's a Governor for Pete's sake, not a Senator or Supreme Court justice, he's grandstanding on Plan B (in a good way) but it's not enough to get my vote. Topinka's a pro-choice Republican and gets my vote head to head with G Rod if the vote was today. I'd support Lisa Madigan if she challenged Rod, but I'd rather have a stellar Mayor than a stellar Governor if I had to pick one. The Mayor is not just a political office-holder, remember, he's also my boss.

And Mayor Madigan has a great ring to it, don't you think?

She
, of course, is Illinois Attorney General Lisa Madigan, daughter of Illinois House Speaker Mike Madigan. Yes, all three of my candidates are 2nd Gen pols. Welcome to Illinois.
Why Madigan? No, it's not just because she's an attractive woman and she talks like a street tough, (as hot as that is). It's because she's a Liberal at heart but one with machine roots, who also has a lot of credibility among African Americans. After graduating from college and working as a legislative aide to Senator Paul Simon, Madigan moved to KwaZulu, South Africa to work as a volunteer high school teacher during the declining days of apartheid in the late 1980's. She has described her work in South Africa as "helping girls and young women overcome racism and oppression and develop and prepare them for the future."
After returning to Chicago to earn a law degree, she began practicing labor and employment law as a trial attorney. In her spare time, she volunteered with anti-gang and community policing efforts in the troubled Austin neighorhood on the city's West Side. Austin is Chicago's most populous neighborhood a former suburb annexed to the city and bordering Oak Park. A working class black neighborhood struggling with poverty and crime, but definitely a step above the hollowed-out despair of neighboring Lawndale and Garfield Park, Austin's a good place to start if you aim to build support among black voters.
Madigan first ran for office in 1998, winning a State Senate seat at the age of 31. Four years later she was elected Attorney General. Her investigation of the state government's Gaming Commission and its abortive decision to award a casino license to the Mob-infested suburb of Rosemont may have convinced Goo-Goos that she's one of their own (though I doubt it).
There's just one problem. Getting her to run. Although her father is a lifelong rival of Daley (the Beverly wing of the Machine has always competed for power with Daley's Bridgeport wing), Daley endorsed Madigan early in the primary for Attorney General. Running against him would be a betrayal. She's more likely to run again for Attorney General or take on G-Rod in a Gubernatorial primary, on her way to an eventual Senate Seat. But if Daley should not run again for some reason, count her as a serious contender.
I mean, I'm sorry, but who wants to live in Springfield?