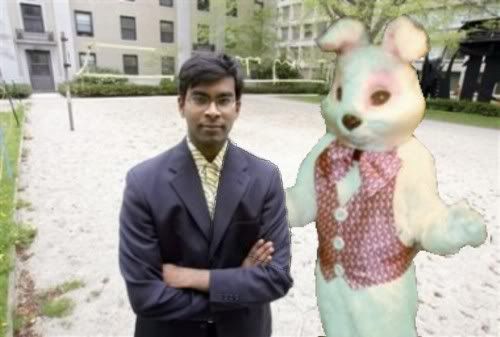 Student Organizes Time Traveler Conference


By MICHAEL KUNZELMAN,
Associated Press Writer
46 minutes ago

BOSTON - Attention, time travelers: Amal Dorai hopes you enjoyed the party he's throwing this weekend. Dorai, a student at the Massachusetts Institute of Technology, is hosting a Time Traveler Convention on campus this Saturday. Make plans now, because it's the last such party.

"You only need one," he said.

HR: Dude, I totally went to that party.
EG: It hasn't happened yet.
HR: It's a time travel party, y'idiot. And it was lame.
EG: Sounds kinda cool.
HR: No. No one intersting showed up. Just a bunch of MIT geeks with laptops and pocket protectors talking about Dirk Gently.
EG: No time travelers?
HR: No, just geeks. I heard it was lame, but I went anyway, just to see. They just kept going on and on about their little wine opener things. "Only at MIT" my ass. I saw one at Bistro Margot last year.
EG: Where did you hear it would be lame?
HR: Probably from myself. I mean, I am the only one who went.
EG: So if you'd kept your mouth shut, more people might have showed up? That's what you get for having such a negative attitude.
HR: It was too late by then! I'd already said what I was gonna say!
EG: Face it. You have a bad attitude. Maybe in the future if you had a better attitude, you'd have more fun.
HR: Nah, I've been to the future,man. It stinks. If you want a good time, visit the Seventies.
EG: I just came from there.
HR: Dude, you missed out.