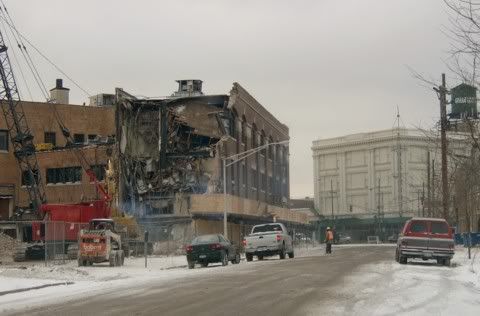 This week's notable demolition was the People's Bank building at 47th and Ashland Avenue, in the Back of the Yards neighborhood. The building had some interesting and unique architectural details, and looked like it was in very good shape, with what looked like new storm windows and everything.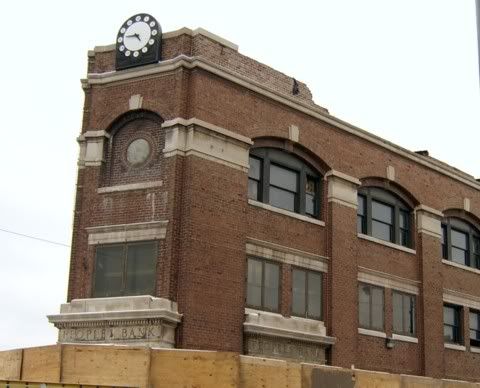 But that's not really why I mourn it's loss. The building was on a 5-point intersection, which are fairly rare in Chicago since the entire city is built to a grid. Most of the diagonal roads were old Indian trails which predated permanent settlement. They were used for perioding trading conferences that were held near the mouth of the Chciago River by tribes which traveled miles to meet and exchange goods. This corner's a little different - the diagonal road in question, S. McDowell St., runs only two blocks, north and east of Ashland Ave to the corner of 45th and S Loomis (Southport to all you North Siders, Noble out here west of the river. I will post soon about all the people who don't realize they are living on the West Side, and why). McDowell runs from the major intersedction of 47th and Ashland up into what I believe was an entrance to the Union Stockyards which gave the neighborhood its name. Before the yards closed in 1971 the entire neighborhood smelled like rotting animal flesh. Now the Stockyards area is an industrial park, and continues to provide working class jobs to South Siders, although far fewer than in times past. The area was and is an immigrant neighborhood, with Eastern Europeans and Latinos mixing with African Americans at the southern edge, which borders on Englewood.
I like these corner buildings because they maximized use of space on odd-shaped lots and defined space in these intersections as important public places. Five and six way intersections have often boasted concentrated retail, resulting in high pedestrian traffic and the sense that the neighborhood had a defined center, it's own, smaller "downtown." At this particular intersection, Goldblatt's still has a small operation going in their old department store structure across the street, there is a new Walgreens (sadly with a big parking lot on the corner) and several smaller shops in storefronts. There were a lot of people milling around while I was there, in spite of the cold and snow.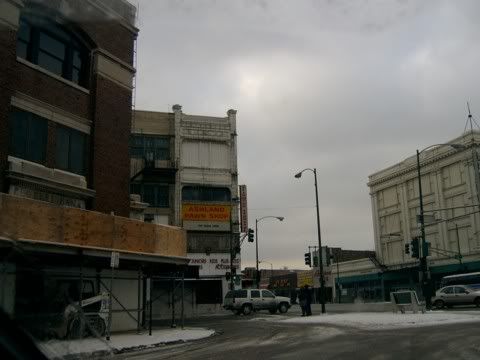 Notice how the corner maintains a dense urban feel, even several miles from downtown. Such retail clusters, usually containing a cleaners, a drug store, a doctor's office or dentist, a couple hair salons, a small grocery, and probably a coffee shop or tavern, would bring people together and provide for a lot of chance encounters with neighbors, which used to happen a lot before the era of strip malls and giant parking lots. At 47th and Ashland, the other buildings haven't received proper maintenance and look sort of forlorn, but try to imagine what they would look like if they were well-maintained and re-developed as mixed-use retail/residential buildings.
As it is, the entire odd-shaped block the building sits on is being redeveloped, except for the other corner at 46th and Laflin, which is a playground for the local Chicago Commons Day Care. In all probability, the developers intend to replace the entire block with a parking lot and a single-story commercial building, possibly a new bank or a grocery store. This would both destroy the dense, walkable feel of the neighborhood and make a very bad neighbor for the day care by increasing traffic on the road between the building and the playground. The problem in this area is that as you head down Ashland into Englewood, you arrive at block after block of nothing at all. Since there is virtually no retail remaining in Englewood do to the neighborhoods extreme poverty and population loss, all the old commercial buildings which lined its main streets have been demolished. This situation makes land in the surrounding South Side very cheap, so when anything at all is built, it's built on a lot of land, with a lot of surface parking. The result is that as time goes by, the area gets more "suburban" in character, with separate single-use residential and commercial areas where people are expected to drive to the store and park. It's a very strange situation to have in an area in which so many people do not own cars and rely on the bus and walking to meet their needs. Even well to do areas of the South Side like Beverly and Morgan Park are seeing traditional buildings disappear, to be replaced by larger and larger parking lots. Beverly Blvd. is even sporting several blocks of sprawl-style houses with big garage doors facing the street! I won't mar this page by posting pictures of something so depressing. Instead, here's a last look at the People's Bank building, a fine example of the right way to make use of urban space.