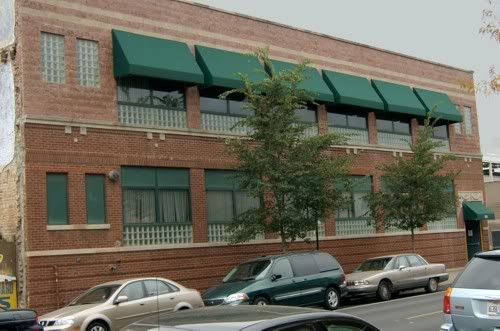 I haven't been keeping up with the demolition watch, obviously. This feature, and to some extent this blog, started with a conversation in a neighbor's apartment over a game of Go. The idea was that someone should keep a record of all the architecturally good but everyday neighborhood buildings that are being destroyed on a weekly basis in the city of Chicago. While cities like New York value their architectural heritage and painstakingly preserve it, to the extent of painstakingly preserving the facades of old buildings when new ones are built behind them. In Chicago such a thing would only be attempted after a protracted fight with preservationists - early morning demolitions without even a permit are the norm, and go on all the time, unquestioned.
Everyone at the gathering lamented this state of affairs, and an architect who was present suggested the old neighborhood buildings should be documented somewhere. Someone else (not me) suggested a newsletter with a "Demolition of the Week" feature. This was perhaps 10 days before the 2004 election, and I was already planning to start this blog, so I just incorporated the feature.
But in recent months, the destruction has been so widespread that I've basically given up. By the time I notice a new demolition, there's nothing left to photograph but a big hole in the ground. This happens so often that the actual population of the neighborhood has probably declined significantly, as house after house has become a construction site in an orgy of speculative development. Developers have no consideration for the neighorhood that was here before, instead they are
explointing every loophole
they can find to allow demolition of the existing working class housing in order to build half million dollar condos for the wealthy. For those of you who are out of town and haven't been here to see the hood, I'm sorry you missed it. It had character. My only consolation is that the real estate market is bound to crash soon, as there are clearly not enough buyers for all of these astronomically priced homes. People here just don't make that kind of cash - the median income in Illinois is actually falling these days.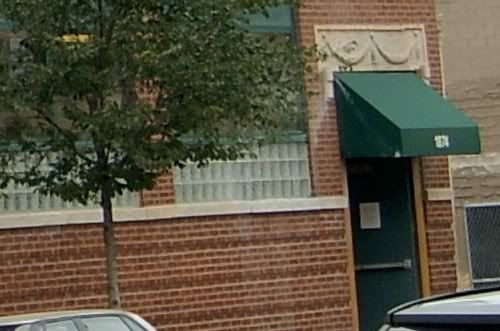 The building I've picked out for this week must seem an odd choice. The commercial building at 1874 N Milwaukee is not exactly an architectural gem. In fact, it's sort or ugly and the building that used to flank it have already been destroyed. other than the charming little detail (above) over the door, it doesn't have that much to recommend it.
Actually, I won't miss the building at all. But I think it's representative of the changes taking place throughout the Near West Side. The building coming down currently houses the El Rincon Community Clinic, a methadone clinic serving the Latino population. This explains the poor quality of my photograph here - it's fairly awkward trying to snap pictures of a methadone clinic on a Thursday afternoon in late autumn. You have to be careful not to get any clients in the picture, and even so, everyone glares at you for invading their privacy. Sort of a creepy corner right now, which is kind of a shame because it's right across the street from the best little Costa Rican restaurant ever.
The new building goin up on the property and the surrounding vacant land won't be so sketchy. In fact, it's supposed to the new wave of
environmentally friendly architecture
. In addition to insulation and advanced water recycling including one gallon toilets filled with used shower water, the building's appliances will be powered by photovoltaic cells, meaning no gas and electric bills. In fact, CK Developers claims it may be possible for the building to sell electricity to Com Ed. The price for these low-impact living quarters? A bit less than half a million each.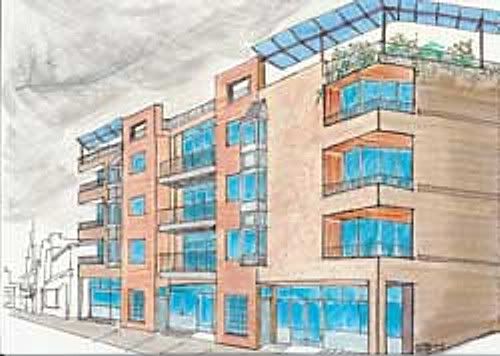 Artist's Rendering of the proposed green condos.
Developing this kind of technology sounds like it's all to the good, in fact it's a greenie's wet dream. But who's going to move into these units? Certainly not the colorful, artistic and pansexual crew who made up the old Wicker Park/Bucktown area and earned it the nickname of "Chicago's Greenwich Village." Not aspiring actors, not painters, not photographers, not Puerto Rican laborers, not octogenarian Polish grandmothers, and certainly not the patrons of the methadone clinic. Which might be great from a developer or investor perspective; "Woo hoo! Rising property values!" But where are people of the non-rising income values supposed to live?