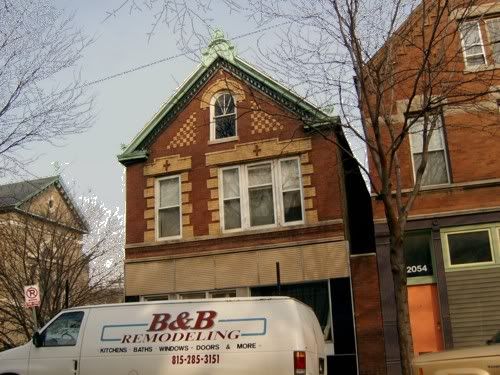 Roberta's house on Webster, last December
Well, our house has been more or less patched together, but the rest of the neighborhood continues to disappear one building at a time.
The most recent loss was, in my opinion, a real classic. The house at the northwest corner of Webster and Hoyne appears to have been built as an apartment building, but it has spent the past few decades as a single family home. Roberta, a friend from Tai Chi who lived there until a year or so ago, grew up there with her parents and 12 brothers and sisters. The family bought the house back in the 1950s when they moved to Chicago from South Dakota - recently her parents retired for good and decided to go back to their hometown in the Badlands.
The developers simply offered them too much money to turn down, and never hid the fact that they planned to demolish the property as soon as they sweet-talked the alderman into changing the zoning. Because the house had a small "yard," a small empty corner lot next door, they knew they'd have room to build something a millionaire could love.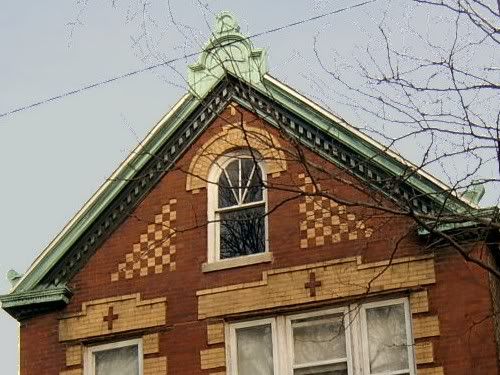 The house was a great example of how attention to decorative detail in a structure can contribute to the neighborhood.
I really liked this one. It was part of a group of buildings that complemented each other and helped establish the neighborhood's character right away as you entered it, walking or driving west on Webster. The whole northeast frontier of Bucktown has been gradually disappearing, being replaced by a generic hodge podge that nobody will really care about, not even the people who live there.
When you add in the fact that a bunch of guys from the gas company just ripped up my impatiens with a back hoe, the neighborhood just doesn't have the charm it did even a week ago.