Air show this weekend. We didn't go this year (not in the mood for militarism) but you could hear the blasting jet engines all over time. The sound reminds me of the days after 9/11 when all civilian flights were grounded and NATO fighters were patrolling the skies over Chicago.
We watched the disaster unfold on television in a friend's seventh floor apartment in Hyde Park. When the first fighter planes cruised overhead, she yelled OH MY GOD THEY"RE COMING!!! And hit the floor. No, it wasn't funny later, it was funny right the fuck then, you could feel the tension breaking like ice snapping in a glass of gin.
Anyway, I haven't been writing lately. For one thing, much of the interesting stuff that's gone on in the last couple weeks has been at work, and I just won't blog about that. It would be damned unprofessional. But it leaves me drained, and it's hard to find the energy to talk about other things.
Big things are up in the neighborhood. Developers' minions have torn down the apartment building next door and are pouring the foundation for a new one, all without the benefit of a valid city permit!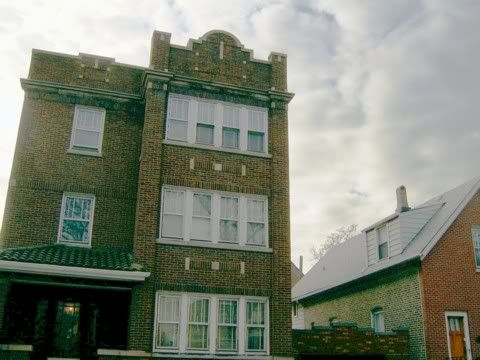 The street that was . . .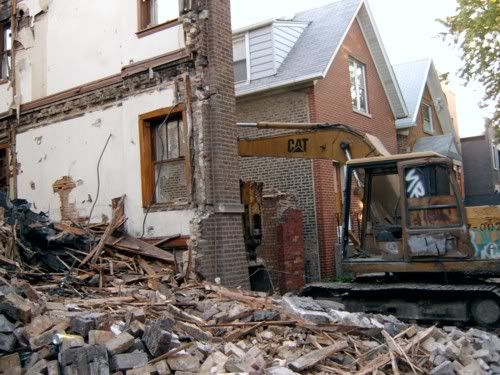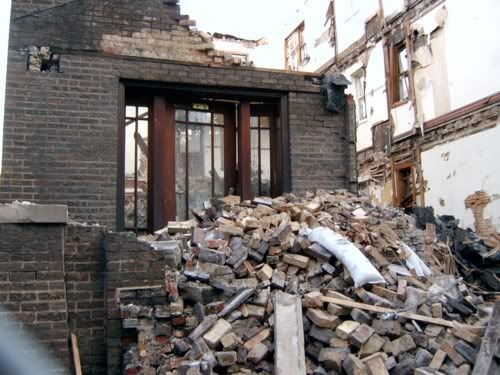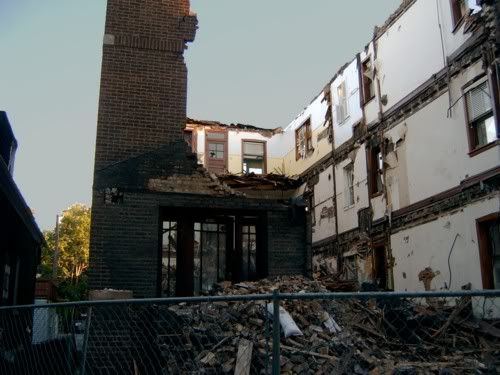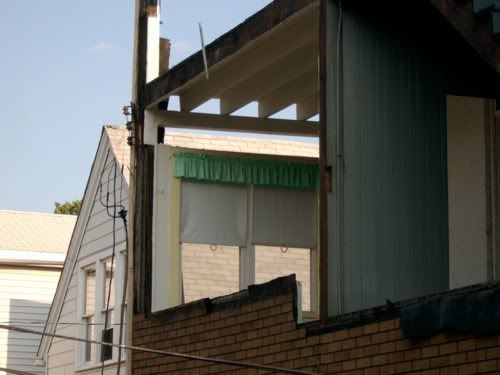 The demolition made a big mess. Debris fell in our back yard, and the fence caved in and blocked the sidewalk which leads to the entrance to our charming upstairs neighbor's place. They have stopped delivering her mail. Did I mention they don't have a permit? Trope has informed the Alderman's office.
Still, I hope they aren't stopped from finishing the project because the big hole is ghastly.
The Pit
I hated to see the old place go, it had class, and really nice woodwork. We walked around in there the week before it was demolished and took some nice little souvenirs – the little manual doorbells from the back stairwell, you spin the wind-up key and it makes a ring like an old telephone with a real bell – most of my readers may not even remember what that sounds like, although a coworker has a sample of one as a ring ton for his cell. I wish the place had been rehabbed or condo-ized rather than demolished, but I don't know if we could start a family in so little space either. All this new construction is adding larger units to the city, which is good, but it's doing so in such a way that makes it almost impossible for regular people to afford housing. Unfortunately, the kind of reform that would make a decent place to live in a decent neighborhood affordable for the rest of us will never be untertaken, because Americans count on rising home prices to finance their retirement. In other words, people who are already homeowners see rising property values as a good thing, and will fight any effort to drive prices down. So those of us who were born too late are S.O.L., I guess.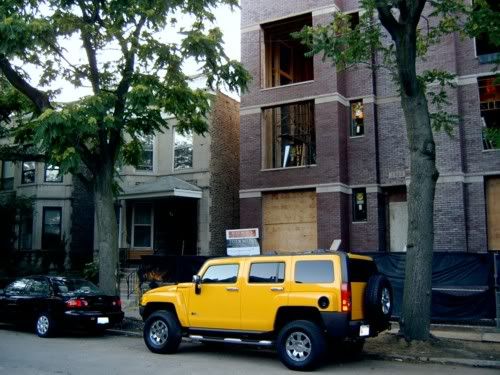 This picture says it all and doesn't need a caption. Yuck. This is what's happening to our neighborhood, which used to be cool.
Didn't mean to end on a grumpy note but I'm tired. Tomorrow there will be happy fun garden pictures, as well as some "what I did with my summer vacation" stuff.